P
ress

R

eleases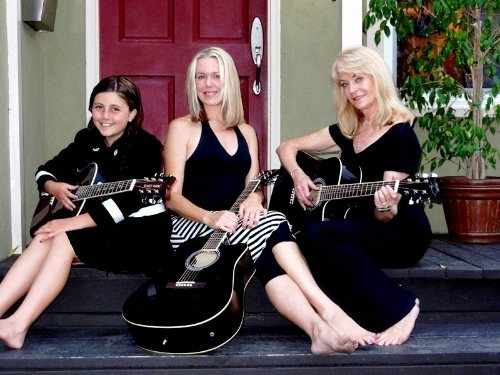 Alie Lance, Kelly Geimer-Lance, and Suzanne Geimer
LA WOMEN IN MUSIC AND GUITAR IT UP FOR GIRLS RECOGNIZE SPECIAL ANGEL WITH 3 GUITARS
Music Workshops Will Encourage Self Esteem and Creative Expression
Suzanne Geimer, President of Special Angel "
Making Music – Helping Kids
" was recognized by the LA Women In Music at the Young Talent Night in North Hollywood, an event presented each month to nurture young talent. Special Angel was awarded three
Guitar It Up For Girls
acoustic electric guitars for their ongoing outstanding work with Lois Lee's Children of the Night in Los Angeles, as well as countless visits to shelters throughout the country bringing hope to at risk youth through music.
Guitar It Up For Girls
is one of the sponsors for the LA Women in Music events.
www.lawim.com
. Special Angel began working with Lois Lee in 1990 by bringing their music and message to the kids at Children of the Night, which was founded in 1979 to help kids at risk between 11 and 17 who are forced into prostitution on the streets of LA and across the country. The organization has rescued boys and girls from the domination of vicious pimps through the support of private donations. Lois Lee and her staff are dedicated to rescuing these children who are in such great need of help and protection.
www.childrenofthenight.org
. According to Geimer "With these acoustic guitars Special Angel can now provide music workshops to encourage self esteem and creative expression to the youth we work with. "The addition of the guitar workshops gives us the ability to empower the kids to experience writing and performing their own songs, which in turn can open their hearts and minds to positive change and growth through music. Special Angel Band guitarist Howie Anderson will lead the workshops for participating kids," said Geimer. Suzanne Geimer, daughter Kelly Geimer-Lance, and recently granddaughter Alie lance along with members of the Special Angel Band have been performing and working with kids since the organizations inception in 1990. "Working with these kids is so rewarding and it is so inspiring to see them become excited and involved in sharing their feelings through music. It is a powerful thing to see," said Geimer. Suzanne and Kelly released a book "Some Day It Will Matter" this year to share their own story with the world. Visit:
www.specialangel.com
.
Media Contact:  Bonnie Carroll PR Consultant | Email: writebc@aol.com | Telephone:805-845-9976 ............................................................................
     ~ Suzanne & Marty Geimer ~                    ~ Rob, Ryan, Alie, Kelly and Ryan Lance ~ We are THANKFUL to all the press for helping us to share our story. They are powerful angels in our work helping kids and families in need.

Thank You to ADVANCE for Nurses magazine for featuring Suzanne's work with Kelly using music to help troubled teens August 24, 2009 - Vol.6 - No. 14 Click on Music as Medicine to read story.
Suzanne, Kelly and Alie thank all the kids who open their hearts and share their stories with us. We appreciate and recognize the role of the press in spreading our message and giving a voice to children in need.